Greater Pipefish
Fact File:

Common Name(s):
Greater Pipefish.

Scientific Name:
Syngnathus acus

Usual Size:
up to 45 cms.

UK Record Weights from rod/line:

Shore:


Boat:


MAFF Minimum Size: Shore: Boat:

Identification:


Breeding:
takes place from May to August, the males carries the eggs and young in a brood pouch until they are about twenty-five mm long.


Habitat:
Below the low tide mark to about 12 m, on sheltered coastline. It prefers sandy and muddy substrates.


Food:
Small invertebrates, mostly crustaceans.


Range:
Found from the Mediterranean to South West Britain.


Additional Notes:


Similar to the Lesser Pipefish but is larger and has a crest above the head.
The head has a long, thin, round snout with a small upturned mouth, the eyes are small and situated well back towards the gill covers. There is a crest above the head. The body is long and thin and covered with bony plates. Its colour is brown/green above fading to cream below. The dorsal fin is situated half way along the body, and pelvics are situated below this. The caudal fin is fan-shaped, and small pectorals are situated behind the gills. No anal fin is present.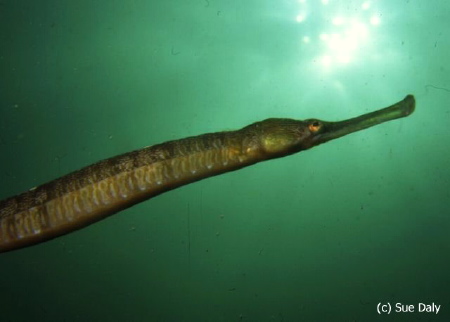 GuestBook / MessageBoards @ http://ukfishid.proboards84.com/index.cgi
Return to the
---