Brill
Fact File:

Common Name(s):
Brill

Scientific Name:
Scopthalmus rhombus

Usual Size:
30-50 cm

UK Record Weights from rod/line:
Shore:7-07-08 Guernsey, C.I. BMK Fletcher 1980

Boat:16-00-00 Isle of Man AH Fisher 1950

MAFF Minimum Size: Shore: Boat:
NFSA minimum size, shore: 35 cm, boat: 35 cm
Identification:
The body has a round outline, though not so round as the turbot. The upper surface is smooth and lacks tubercules.

Breeding:
Spawning occurs in spring - early summer in 10-20 m of water. The young metamorphose at 20-35 mm, and inhabit shallow waters for their first 1-2 years.

Habitat:
Brill may be found in depths of up to 50 m, on sandy or mixed substrates.

Food:
The brill feeds principally on small fishes and crustaceans.

Range:
Found throughout UK waters.

Additional Notes:
The brill is fished commercially, but is not as highly-prized as the turbot.

---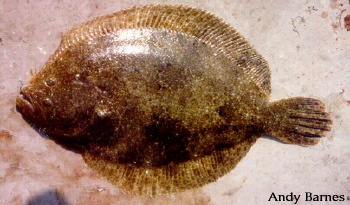 GuestBook / MessageBoards @ http://ukfishid.proboards84.com/index.cgi
Return to the
---